WATCH OR LISTEN. ANYTIME, ANYWHERE!
Do you dread going to work on Monday mornings? The Ken Coleman Show is for you! Join the conversation with Ken Coleman as he delivers practical advice to help you discover the role you were born to play—and map out a plan to get there. You have what it takes to make your dream job a reality!

The show is live weekdays from 12-1 p.m. ET on YouTube, 1-2 p.m. ET on local radio and SiriusXM channel 132 and available wherever you listen to podcasts.

Call or email the show to talk to Ken and get answers to your career questions: 844.747.2577 or ask@kencoleman.com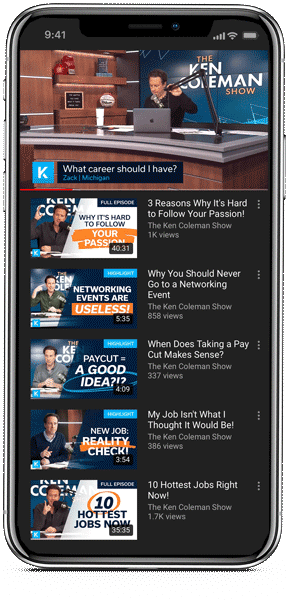 Want more? Work Matters with Ken Coleman is short, daily podcast all about what's going on in the job market and how it affects you and your career journey. It's the perfect companion for your morning routine or commute.